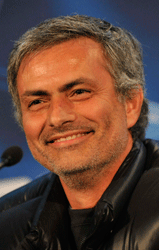 Steve Kean is the bookies favourite to be the next Premier League manager sacked – latest betting here…
Real Madrid coach Jose Mourinho has again reiterated his desire to return to England.
The former Chelsea boss has often spoken of his love for the English game and despite enjoying great success since leaving Stamford Bridge, most notably with Inter with whom he won the treble last season, Mourinho is relishing a return to the Premier League.
"I miss England and my next job will be in England," he told The Sun.
"There is unfinished business.
"And I think England wants me back, no? It was the most enjoyable time of my career.
"My Chelsea time was amazing as a football manager and family man. My family and I enjoyed it so much. We made so many friends here. We still keep in touch, we still come back.
"In football there are a few victories here I would like to repeat. I will talk to my agent and get a project for my career.
"I still have three years at Real Madrid. It is the biggest club in the world but it is also the most difficult club in the world.
"They came to me for the third time and I could not say no to them for the third time – I had to go.
"And I had to go to Italy, that was important for me because I wanted to try there. Everyone said it was the home of tactics so I said let me try there.
"But it is not England, England is special. People in Italy, Spain and Portugal ask me why I love England so much and I can't explain – I just do.
"I want to be happy in my work. I want to be happy with my football."
Steve Kean is the bookies favourite to be the next Premier League manager sacked – latest betting here…
Take advantage of the sales by saving up to 36% on a subscription to World Soccer