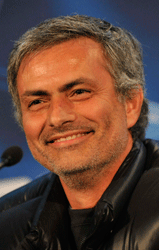 Ian Holloway is a best price evens to be named Premier League Manager of the Season – see the full betting here…
Jose Mourinho has told reveled that he remains in 'love' with Chelsea.
The Real Madrid coach has three years left on his current deal with the Spanish giants, but speculation has mounted in recent weeks that he may return to Stamford Bridge.
Asked if he would see out his contract at the Bernabeu, he told Revista De La Liga he said: "I don't know. I love Chelsea.
"I was the happiest man [when there]. I was thinking to be there all my life and a few months later, I was out. So you never know.
"In Inter Milan I found an incredible family. Then after two years I felt it was over.
"When I sign a contract, I sign with the intention to respect the contract and be happy."
Ian Holloway is a best price evens to be named Premier League Manager of the Season – see the full betting here…
Take advantage of the sales by saving up to 36% on a subscription to World Soccer