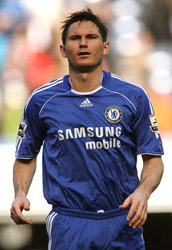 Premier League Fixtures – The start of the new Premier League season might still be a while off, but the fixtures are already out and we've got all the early match betting – Aug 16th
Jose Mourinho has confirmed that he has not given up hope of signing Chelsea midfielder Frank Lampard before the end of the summer.
Lampard played under Mourinho at Chelsea and on his appointment as Inter boss he immediately identified the midfielder as one of his top transfer targets.
However, Inter failed with a bid of £7.95million last week and Chelsea have made it clear they will not enter into negotiations over Lampard.
Despite that setback, Mourinho remains undeterred and believes that the England international could still end up at Inter.
"The transfer window is open until August 31 and we need a midfielder," Mourinho told a news conference on Inter's first day back for pre-season training.
"Lampard is at Chelsea, but I have worked really well with him.
"I worked with Frank for three-and-a-half years, there is an unforgettable relationship. But in this moment I respect players and the clubs."
Mourinho has also been linked with a move for Porto winger Ricardo Quaresma but he confirmed that he is more concerned with trimming his squad before the new season starts.
He said: "I like Quaresma, but he is at Porto. Anyway, the squad needs trimming. I want to work with 22 players at most, plus the goalkeepers."
Premier League Fixtures – The start of the new Premier League season might still be a while off, but the fixtures are already out and we've got all the early match betting – Aug 16th