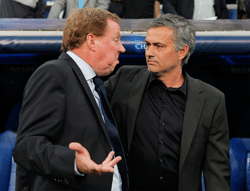 Gavin Beech is tipping Man United to beat Chelsea in their Champions League quarter-final 1st leg tonight…
Real Madrid coach Jose Mourinho insists his side's Champions League quarter-final tie with Tottenham is "not over", despite winning the first leg 4-0.
Real swept aside Premier League outfit whose cause was not helped by the first half dismissal of striker Peter Crouch.
"I know at this level, 11 against 10, it's almost impossible," added Mourinho.
"But I know the English mentality. With the English concept of football, it's not over."
Former Chelsea boss Mourinho, who is bidding to become the first manager to win the Champions League with three different teams after his 2004 success with Porto and 2010 win with Inter Milan, admitted he felt some sympathy for Tottenham.
"It's just a question of the team with 11 keeping concentrated and we did that in the second half, not in the first half but in the second half we did that," stated Mourinho.
"I feel sorry because with 11 against 11 the match would be much better.
"You just have to defend, if you've got an advantage you defend, defend and defend.
"And if you are already losing and you have to attack, it's an impossible job and I think they will try everything in the second leg."
Despite the scoreline, Mourinho stressed that he was taking nothing for granted at this stage.
"We're not in the semis – last time that Real Madrid played in the quarters we also won at home, 4-2 I think [against Monaco], and then we were out."
Cristiano Ronaldo scored the fourth in the closing minutes with a volley, but the former Manchester United forward warned against complacency in the return leg at White Hart Lane on Wednesday 13 April.
Ronaldo said: "We have to take advantage of this lead because anything can happen and we can't underestimate Tottenham.
"Regardless of the fact that we were playing against 10 men the team played well. It was tough going in the first half but we improved a lot in the second half."
Gavin Beech is tipping Man United to beat Chelsea in their Champions League quarter-final 1st leg tonight…