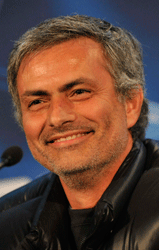 Dagenham & Redbridge take on Rotherham in the League Two play-off final this weekend – see all the best betting here (Sun 15:00 Sky Sports 2)
Jose Mourinho has vowed to bring the glory days back to the Bernabeu as he aims to restore Real Madrid to former heights.
Mourinho is set to be unveiled as Real's new boss once he resolves contract negotiations with Inter, and the 47-year-old has hinted that he would like to sign midfield pair Steven Gerrard and Frank Lampard.
"I like players in the final part of their careers," Mourinho told Spanish sports daily AS.
"I love to have some players who are 33 or 34 years old. They are players that you buy and you won't recover this money, but if they give you good performances for two or three years you've got your money's worth.
"Both (Gerrard and Lampard) are great players who always give everything."
There have been doubts over whether Mourinho's style would suit Real, after the Portuguese was criticised for employing defensive tactics to lead Inter to Champions League glory, but he has been keen to allay those concerns.
Asked about how Real fans expect to see both successful sides and entertaining football, he added: "Me as well, let them have no doubt about that.
"My Madrid will always play well, attack and be winners. However, there will be times when we will have to face the game in a different manner.
"Having said that, my team always goes out on the pitch with a clear idea: to win. If we are winning 3-1 and we only have 10 players on the pitch, then my players will have to sit back to defend. That's the way it is.
"It's very difficult during 90 minutes to always be better than your opponent. There's always a time in which you need to be a team and make sacrifices.
"It will be a balanced team," Mourinho added.
"We will be a side with its own identity, we will not imitate anybody. The identity will be set by the players and me. For this we will have to work very hard."
Mourinho has won league titles in Portugal, England and Italy and Mourinho is determined to continue his winning streak in Spain.
"I want to win the league because no player or coach has won the English, Italian and Spanish leagues," he said.
"I would like to be the first to do it, and also to be the first coach to lift three Champions Leagues with three different teams.
"I would also like to discover a player from the youth team and make him into a star.
"I have a lot of motivations. I don't want to lose humility, so I cannot come out and say that I'm going to win the league when you are up against a super team like Barcelona.
"Hopefully Valencia, Mallorca and Atletico, to name but a few sides, win more and we will see an even better championship this year," Mourinho added.
"It's going to be a great championship because Barcelona have signed very well and are going to be stronger than this season."
Dagenham & Redbridge take on Rotherham in the League Two play-off final this weekend – see all the best betting here (Sun 15:00 Sky Sports 2)
Make sure you don't miss any of the last news and articles from World Soccer. Subscribe to World Soccer today and take advantage of our all 50th anniversary offer, saving up to 50%!