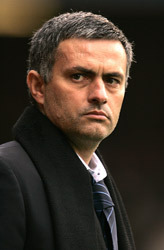 Chelsea manager Jose Mourinho was in a confident mood ahead of on Tuesday night's Champions League encounter with Barcelona.
With Barca 2-1 ahead after a controversial first leg at Stamford Bridge, Mourinho believes his team are capable of pulling off an upset at Camp Nou.
"I always think positive," he stated. "I always believe in fairness and in truth.
"On Tuesday I will go to the pitch before the game and try to take the good feeling of the crowd.
"I always believe you never see me before a game say I don't like this referee, I think this referee is coming to do it wrong, this referee will help the opponent. You never hear me say that.
"Before the game, I'm never worried about who is referee or linesman.
"I always think positive. At this moment, I believe the referee can perform well, do his best and can create a clean situation for both teams."
UEFA have appointed experienced German referee Markus Merk to officiate tonight's match.
Mourinho refused to disclose his line-up for tonight although he admitted that there was a chance he may change his preferred 4-5-1 formation to accomodate both Didier Drogba and Hernan Crespo up front.
"Sometimes, I play with both," he revealed. "Not many times but I did it before.
"I have this situation in my hands. Crespo, Drogba or both.
"I know, of course, the team I am going to play, except [injury doubt Frank] Lampard, as I'm not sure I can [play him]."
Subscribe to World Soccer – The essential football magazine.