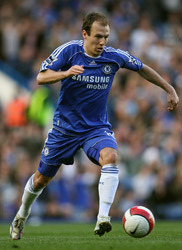 Chelsea manager Jose Mourinho has denied reports that Dutch winger Arjen Robben is on the verge of leaving the club.
Robben along with team-mates Frank Lampard and John Terry have yet to sign new deals, but Mourinho is confident the trio will stay at Stamford Bridge.
"The club wants to keep these players. I trust the board and our chief executive Peter Kenyon in the negotiations he is doing.
"I know the players want to stay and I would be happy if they signed."
The arrival of French winger Florent Malouda created fuurther uncertainty over Robben's position, but Mourinho insists that Robben remains part of his plans.
Robben played 45 minutes of Chelsea's 1-0 friendly win over Suwon Bluewings on Tuesday.
After the match Mourinho said: "The latest with Robben is that he played the game. I cannot tell you more than that.
"At the moment he is a Chelsea player with two more years of contract and he is working well.
"For me, he is a player like Terry or Lampard with two more years of contract.
"I look at him as a Chelsea player and he has to compete against very good wingers like we have. I am happy with the situation."