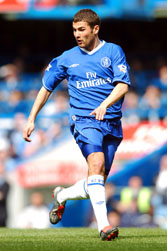 Romanian striker Adrian Mutu has been banned for seven months after being found guilty of taking a banned substance by the English Football Association.
Mutu, 25, confirmed he will not appeal against the decision.
An FA statement said Mutu was suspended for seven months "subject to completing a programme of education and rehabilitation".
The striker was also fined £20,000 and will be subject to testing throughout the period of the suspension.
The suspension is backdated to start on 25 October and will end on 18 May – ruling him out for the rest of the season.
The commission took into account Mutu's admission of guilt.
Professional Footballers' Association chief Gordon Taylor said: "He is now looking forward to getting his career back on track.
"We are appreciative of the Football Association's attitude with the emphasis on education and rehabiliatation. We had a full and fair hearing.
"Adrian has admitted the charge in mitigation and accepted his responsibility from the very beginning.
"He's sorry for the problem that has been caused and wants to restore his good name."
Mutu was recently sacked for 'gross misconduct' by his club, Chelsea.