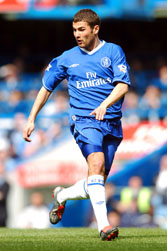 Former Chelsea striker Adrian Mutu is to begin talks with Serie A's Juventus as he looks for a new club.
"Mutu will be in our club's main stand to watch the match between Juventus and Fiorentina," said a Juventus official.
"Then he will meet some important people of the club," he added.
Mutu was sacked by Chelsea and banned for seven months bby the Football Association for taking cocaine.
The Romanian international recently sacked his agents and is now represented by Alessandro Moggi, son of Juve general manager Luciano Moggi.
Mutu is to undergo a drug education and rehabilitation programme.