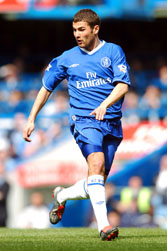 Adrian Mutu's agent claims the Chelsea striker is "absolutely shocked" at reports that he failed a drugs test.
Reports that Mutu had failed a routine drugs test during a random check at Chelsea in September, have appeared in the British press. But the player's agent, Victor Becali, he has heard nothing from the club.
"We have not received anything official until now.
"On Monday me and my business partner Gica Popescu will fly to London. After I heard the story I called Mutu and he was absolutely shocked," he told the Daily Star newspaper.
Neither Chelsea nor the Football Association have commented on the reports yet.
The 25-year-old striker could face a two-year ban from the game if an alleged positive result is confirmed by a follow-up test.
Mutu's Chelsea future had been in doubt as a result of a number of disagreements with coach Jose Mourinho.
Becali added: "They (Chelsea) have their own interests in selling Mutu. I have heard that this is not a recent test. I think it was done in September."
Chelsea were looking to selll Mutu, possibly on loan in the January transfer window.
Signed for £15.8m signing from Parma last season, he began brightly but his performances dropped off and since his fall out with Mourinho, his days at Stamford Bridge have looked numbered.