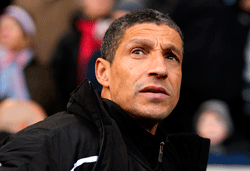 Man United are the new Premiership favourites after Chelsea slip up again, this time against Everton
Newcastle United players have expressed their shock and sadness at the decision of the club to sack Chris Hughton.
Hughton was relieved of his duties at St James' Park on Monday, despite leading the club to the Championship title last season and taking them to 11th in the Premier League table.
In a statement, the club said they were looking for an "individual with more managerial experience".
Captain, Kevin Nolan, admits the club's players are in shock following the sacking of the Hughton.
"We are all upset that Chris is going," he said. "He helped a lot of the lads here with their careers when he was a coach and then as manager. We will never forget our promotion from the Championship last season and we have to do what he told us.
"Stick together, make sure we keep the unity Chris has built up and get through this difficult period. It goes without saying we were shocked by the announcement."
Midfielder Nolan also paid tribute to how Hughton conducted himself, revealing that he had wished the players well for the remainder of the campaign.
"Chris was gutted about what had happened. You could see that," Nolan continued. "But it said so much about him that, even though he was obviously disappointed to be going, he was still telling me and Joey [Barton] that we had to make sure we had a good season.
"There was such dignity about the way he left, which is how he conducted himself while he was the manager."
Veteran defender Sol Campbell has spoken of his dismay at the sacking of Hughton.
"Chris is such a lovely guy – top man. This will hit the players hard," he told ESPNSoccernet.
"The players admired him, and liked him, and won't be happy now he's gone like this."
"You have got to ask yourself why this has happened because it makes no sense. Here is a guy who has done an unbelievable job. He got the club back into the Premier league and any manager would have been rewarded for that with a new contract – but Chris wasn't.
"The players are sure to be asking themselves 'what the hell is going on?', that is only natural."
Reserve team coach Peter Beardsley will take charge of the first team until a replacement is found, with Martin Jol reportedly a contender having left Ajax on Monday night.
Man United are the new Premiership favourites after Chelsea slip up again, this time against Everton
A subscription makes the Christmas perfect gift. Give a lasting gift this year and save up to 33% when you subscribe.