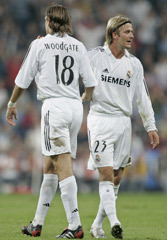 Jonathan Woodgate suffered a Real Madrid debut to forget, scoring a spectacular own goal and then being sent off against Athletic Bilbao.
In the first half Woodgate, 25, attempted to block a Joseba Etxeberria shot only to head the ball past Iker Casillas.
Woodgate was then sent off on 65 minutes after picking up a second yellow card.
Despite Woodgate's dismissal Real went on to beat Bilbao 3-1, with goals from Brazilian Robinho and two from captain Raul.
Woodgate's first yellow card came when he lunged at Bilbao midfielder Carlos Gurpegi just before the interval. The challenge could have merited a red card, but there was little doubt about his dismissal for a foul on Etxeberria midway through the second half.
Woodgate admitted: "It was not the best start in the world."
On his own goal, he said: "I couldn't believe it. I went to try to block the ball and it just skimmed off my head. Obviously, I did not want to get an own goal."
Discussing his dismissal, Woodgate added: "I just can't believe I got sent off. I didn't think the second yellow card was right, you know, but it's the referee's decision.
"That's not the waythat I dreamed my debut would be. I am in shock."
Wooodgate was given a rapturous ovation by the Real faithful as he walked from the field.
"I want to thank the public, who were brilliant when I was walking off. They were all clapping and cheering," he added.
Injury to Ivan Helguera and a suspension for Sergio Ramos had allowed the central defender to make his debut over a year after joining Real from Newcastle in a £13.4m move and 17 months since he last played a competitive game.
He had been due to make his debut for Real last October but suffered a recurrence of the injury in a training game.
On a positive note, the Englishman came through his debut without aggravating his previous thigh injury.
"Physically I felt good," he said. "My leg was no problem and I felt strong."
He also vowed: "I will come back stronger."