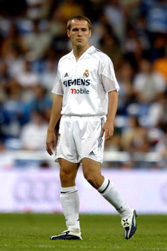 Former Liverpool striker Michael Owen says he is happy for his old team-mates after their Champions League triumph on Wednesday.
Owen left Anfield to join Spanish side Real Madrid last summer in an £8m deal. At the time he spoke of his desire to win trophies, but while he has drawn a blank in his first season in Spain, his former club have secured European club football's most prestigious trophy.
"You can't keep looking back and second-guessing decisions like my move to Real Madrid," he told The Times.
"People will say my timing for leaving was suspect but how was I to know that Liverpool were about to go on the most incredible run to the final?
"Who knows if they would have got to the final if I was leading the attack or if I would have done things differently from Milan Baros.
"There are so many turning points but now that they have come good I am thrilled for some of my old colleagues such as Stevie Gerrard, Didi Hamann and Jamie Carragher.
"I hope it does kick-start a great new era for Liverpool."