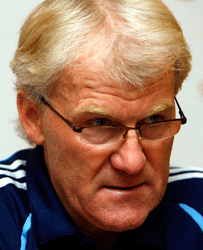 It's being billed as 'Survival Sunday' with Hull, Boro, Newcastle and Sunderland all hoping to avoid joining WBA as the relegated teams this season.
Denmark coach Morten Olsen has been forced to abandon plans to combine his duties with a management role at Ajax.
Morten Olsen may be the longest serving international team manager with a major football country, and one of the most respected coaches in the world game, but the idea of a job-share between Denmark and Ajax for the next 12 months was quickly snuffed out.
The 59-year-old Olsen is likely to step down as head coach of the Danish national team after the current 2010 World Cup campaign, and has been reported in the Danish media to be eager for a final fling at club football.
When Ajax decided to sack Marco Van Basten last month, Olsen was quickly named as the favourite for the job at one of his former teams. Speculation was equally swift that he might combine the club role with his leadership of Denmark, much in the manner that Guus Hiddink has shared his time in the past few months between Chelsea and Russia.
When the question was put to Olsen he responded diplomatically, saying it would need the agreement of all three parties – leaving the door open for a possible deal.
That was clearly rejected by the Danish FA (DBU). General secretary Jim Stjerne-Hansen was adamant that it could not work for Denmark, whatever other countries might choose to do. With the national team sitting top of their tough qualifying group, and looking a strong bet to reach the 2010 World Cup finals in South Africa, why would the Danes want to in any way compromise their ambitions?
Hiddink's job share had worked well enough, but Russia had only two lightweight matches during his time at Chelsea, and the arrangement ended at the close of the season. When Wales tried it when John Toshack was manager of Real Sociedad in the 1990s the experiment was a total flop.
When push came to shove, Olsen was always most likely to put his country first. He was an international player for 19 years with Denmark, one of the great liberos, and the first Dane to reach 100 caps. He has been head coach for nine years now.
"I have devoted half my life to the national team," said Olsen. "And while I feel I still have something to offer I am happy to keep going.
"The best thing is that I still get the same feeling I did when I first started, and in seeing that young players are just as proud as I am. That's fantastic. When I don't have that feeling any more I'll know it's the time to stop.
"I think football brings out the best kind of nationalism, certainly in my country. In Denmark there is one thing that everyone unites behind and that is the national football team. If we can get to 2010 and do well, we will have the whole nation standing behind us."
The words are true. An astonishing 83 per cent of the Danish population watched on TV when the national team beat England 1-0 at Wembley in the early 1980s, the result that sparked the emergence of the famous Danish Dynamite team that Olsen captained.
A similar spirit was evident in 1986 when the Dynamite team dazzled at the Mexico World Cup before imploding – and again when the players were plucked from the beaches to win the Euro 92 tournament.
Since then Danish fans and media have become more critical than previously, following the global trend. Olsen was subject to fierce flak when his team failed to qualify for the 2006 World Cup and Euro 2008, but the DBU stood firm in supporting him and Denmark are now reaping the benefit of continuity in a 2010 qualifying group that also includes Sweden, Portugal and resurgent Hungary.
"We certainly have a good group of players and a lot of very promising younger guys like Nicklas Bendtner," said Olsen. "They are beginning to make a real difference for us. We have made an exceptional start, but we're only halfway through and we have two very difficult games to come against Sweden.
"As a group we feel we have something to prove after failing to qualify for the last two major tournaments. Nine years is a long time in the job, but I am happy to keep going."
It's being billed as 'Survival Sunday' with Hull, Boro, Newcastle and Sunderland all hoping to avoid joining WBA as the relegated teams this season.
For more fascinating features, subscribe and save 30% and use the below link?