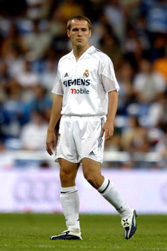 Azerbaijan coach Carlos Alberto has condemned England's Michael Owen, describing the former Liverpool man as a "midget".
Former World Cup winner, Carlos Alberto, claimed the Real Madrid striker had boasted before the game that he would score five against the international minnows, but much to his delight Owen drew a blank in England's 2-0 win.
"This man – what's his name, the number 10, the small one who doesn't play in the Real Madrid first team – said that if Poland beat Azerbaijan 8-0, England should score at least eight and he'd score five of them," said Carlos Alberto.
"But he must respect everyone. Who is Michael Owen anyway? What has he ever won in football? He plays for Real Madrid but he is always on the bench.
"It is not right for him to say that he can score five goals against Azerbaijan. Where are those five goals tonight?
"He didn't score one. Sven-Goran Eriksson is a good man, he should teach him to respect everyone. Who is he anyway? Who is he?
"I have a history in football but what is the history of this guy, this midget? He ought to clean his tongue and wash the boots of David Beckham as they are so wet tonight."
Meanwhile, England boss Sven Goran Eriksson came to the defence of Owen and believes there was a misunderstanding regarding Owen's alleged remarks.
"From what I know about Michael Owen, he would never say things like that. It's not his style," said Eriksson.
"He might have said that he hoped he would score a lot of goals, but he would never have said that he would go out and score five goals or whatever.
"I'm sorry if there was any misunderstanding."