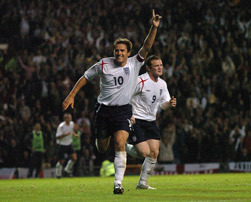 England should have few problems getting a result against Estonia this Saturday and moving one step closer to qualifying for Euro 2008 – 15:00 BBC1
Michael Owen has denied he is putting England before his club Newcastle.
Magpies boss Sam Allardyce has expressed doubts about Owen's readiness to play in England's two Euro 2008 qualifiers after undergoing stomach surgery on 28 September.
"The [Newcastle] manager could have started me on Sunday but he put me on the bench," said Owen. "I am fit.
"Considering I pushed myself to play in a record time for Newcastle, that should dispel any doubts I was just getting myself right for England."
Owen scored on his return to the Newcastle side during Sunday's 3-2 win over Everton, and he is angry that his commitment to Newcastle has questioned.
"I'm fine now and there's no risk," Owen BBC 5live.
"The club will want to protect me but if you listen to the surgeon, they will say there is absolutely no problem.
"The surgeon has said that it is a short rehab time when you get back playing. There is no problem with playing both games. It's better to push it as far as you can.
"I'll listen to the surgeon and nobody else because she knows what she is talking about. I don't see why I can't play – the surgeon tells me nothing can go wrong.
"I've always pushed even when I have been hurt – to play for my club or my country. I'm hungry to play in any game and score any goal," he said.
"I will bust a gut to play in any game, for Newcastle and England.
"I thought people would say 'how has he got back in eight days? That's fantastic'. But people have turned it into a negative, saying 'you've only done it for England'.
"You can't ever win."
Argentina legacy
The idea that his priority was with England must, he admits, have originated with the goal he scored as an 18-year-old against Argentina at the 1998 World Cup.
"It was at such an early age," he admits. "Liverpool were coming fourth or fifth in the league. My room-mate Jamie Carragher, whose family are all Liverpool or Everton fans, in the thick of things in the city, said then: 'Because you made your name with England, people associate you with England.
"Until you win something with Liverpool they will think you are England's player as opposed to Liverpool's.' That label has probably stuck with me through my career and that's unfortunate."
Record can wait
Owen also insisted he is not preoccupied with becoming England's all-time leading goalscorer. The striker is now within ten of Sir Bobby Charlton's mark of 49 after he reached the 40-mark with his two goals against Russia last month.
"It would be a fantastic achievement but it is something that is still a long way off," he said.
"I keep it in the back of my mind because I keep telling myself that I have played for England for nearly 10 years now and I have scored 40 goals, which is an average of four a year.
"If that is the case, should I stay fit, maintain my form and stay in the team, I am still over two years from doing it. Two weeks is a long time in football, let alone two years."

England should have few problems getting a result against Estonia this Saturday and moving one step closer to qualifying for Euro 2008 – 15:00 BBC1