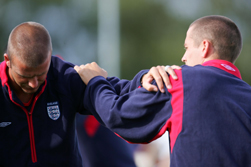 David Beckham has warned his new Real Madrid team-mate Michael Owen that he will face a battle on his hands if he wants to command a regular starting place at the Bernabeu.
"It's always tough going into a team like Madrid," said Beckham.
"You've got to work hard to get into this team.
Speaking ahead of England's friendly international against the Ukraine, Beckham added: "It doesn't matter who you are and what name you've got. If you don't play well, then you don't get into the team.
"Of course Michael is talented enough – he could score goals in any league – but we'll have to wait and see."
Despite starting rightly, Beckham endured a difficult first season in La Liga last year as Real ended the season without a trophy.
"When I signed for Real, people were asking where was I going to play but I knew it was going to be hard.
"I never felt that I made any mistakes in moving to Spain or settling in and I will be a lot happier this year.
"I love living in Spain and my family love living in Spain now. My children have got a school there now and they'll settle there. I'm looking forward to life."
"After Christmas my form dipped a bit with things being said about me which weren't true but I never came close to moving back to England.
"I think that last week was probably the best I've played for four or five months and I'm happy with that and looking forward to the new season."
Owen, meanwhile, is confident that he will be a success in Spain.
"I'm going to be mixing it with some of the very best players in the world but I'm ready for that challenge," he said.
"I expect to be the main goalscorer in any team that I play in.
"That is what I am in the team for but I think this move will help me develop as both a player and a person.
"Becks called me when he heard what was happening and I had a good chat to him then.
"But now that everything's sorted, I'll be pestering him even more to find out about everything I need to know."