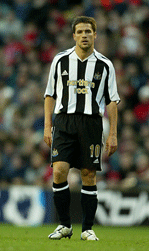 Michael Owen believes that the next England manager should be English, if at all possible.
Owen, one of the most experienced members of the current England squad was responding to speculation concerning the identity of Sven Goran Eriksson's successor.
"I think everyone would say they want an English manager," Owen told Icon magazine.
"I'm no different. As long as he's the best man for the job.
"But the main criteria is obviously 'is he good enough?' If that's the case then I would side with an English manager."
Owen admits that Eriksson's decision to step down after the World Cup came as no surprise to members of the England squad.
"At the back of our minds, we would have all thought that the manager would be leaving anyway," he concluded.
"If we win the World Cup he would have said 'Thanks very much, I've done what I wanted to do' and gone.
"Equally, if we hadn't done well I'm sure The FA would have appointed someone else anyway as he's had five years."
Newcastle striker Owen, 26, fractured a metatarsal on 31 December last year and has not played since then.
He is one of a number of players, along with Sol Campbell and Ashley Cole, whose fitness is a source of concern for Eriksson. However, the England boss remains confident that the striker will soon return to actiion.
"Michael Owen is supposed to be ready very soon and Sol Campbell played in a reserve game on Tuesday and that's very good news," said the England boss.
Subscribe to World Soccer – The essential football magazine.