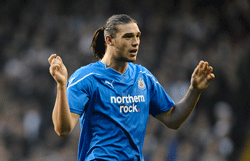 Fernando Torres is a best price 28/1 to be Premiership top scorer after his £50million move to Chelsea
Magpies manager Alan Pardew has since refuted claims that the club forced striker And Carroll out of the club, insisting that the striker was not sold against his will.
In a surprise deadline day move, Carroll joined Liverpool in a deal worth £35million – a record fee for a British player.
The editor of Newcastle United fanzine Toon Talk says that Carroll was forced to join Liverpool and did not, as the club claimed, hand in a transfer request.
Steve Wraith has published a series of texts between himself and the former Newcastle No. 9, during which Carroll claims he did not want to leave St James' Park and was told the club wanted to take the money.
Pardew spoke about the move on Tuesday morning and indicated that Carroll had moved for the money.
Pardew told the Shields Gazette: "What can I say? We didn't force anybody to leave. I disagree with that point. He had a contract here for five years, and at some point it would get renewed, but for him to sign in October and it get renewed in January – where would it stop?
"Personally, I'm disappointed. He's a lovely lad, and I really like him, but it was his decision, and you can't change that. Was this about football? That's what you have to ask. I don't think it was.
"We were having a discussion about what we were going to do with that offer when Andy requested to see me. I went to see Andy, and face to face we had a conversation about him wanting a new contract, even though he signed on in October, and (he said) if he didn't get that contract, he wanted go.
"I asked him what he wanted, and I went to the board. We had a discussion about what the ramifications would be for the whole club. We took the view, with him signing a contract in October, that this would cause us all sorts of problems. We decided that we needed the conversation confirmed, and he put in a transfer request, which he did.
"He spoke to his agent, and between them they put the request in. We decided with the size of the offer, and what it meant to us, that we would accept.
"We weren't expecting him to go, so we weren't in a position to replace him. One thing I can guarantee, having spoke to Mike Ashley, is that every penny will go back into the club. Mike's assured me he won't take a penny out of the transfer."
Fernando Torres is a best price 28/1 to be Premiership top scorer after his £50million move to Chelsea
Take advantage of the sales by saving up to 36% on a subscription to World Soccer