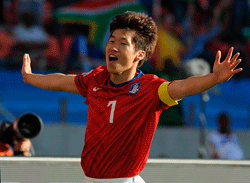 There's a full Premiership fixture list on Tuesday & Wednesday – see the best odds on every match here…
Manchester United midfielder Park Ji-sung of South Korea has announced his retirement from international football.
The South Korea captain, who won his 100th cap in last week's Asian Cup semi-final defeat to Japan, said that persistent knee injuries have forced him to retire .
Park, 29, says he hopes to continue playing club football for another three to four years.
"It was a great honor and point of pride to play for the national football team," Park told a news conference in Seoul.
"Above all, I would like to make way for teammates who have been making remarkable progress," he said.
"If there were no injuries, I could have continued my national team career as physically difficult as it is. However, I have no choice but to retire under the current situation.
Park singled out Son Heung-min of Hamburg SV and Kim Bo-kyung of Cerezo Osaka as promising players who can follow in his footsteps.
Park was a key member of the South Korean national squad that reached the World Cup semi-finals in 2002 on home soil – the best performance by an Asian team in that competition. He went on to play in the 2006 and 2010 World Cups.
"The happiest moment in my life was when I heard I was selected as a member of the national team," he recalled. "The 2002 World Cup was also really a happy moment."
Asked about when he expected to quit football entirely, Park said: "I haven't decided what year I'll quit. I think I can play at least three to four more years."
Park became the first South Korean to play in a Champions League final when Manchester United lost to Barcelona. He has also won three Premier League titles and three League Cups with the English club.
There's a full Premiership fixture list on Tuesday & Wednesday – see the best odds on every match here…
Take advantage of the January sales by saving up to 36% on a subscription to World Soccer