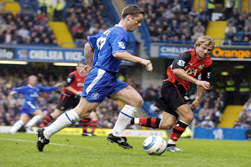 Newcastle have completed the signing of Chelsea midfielder Scott Parker on a five-year deal.
Parker joins from Chelsea in a deal worth £6.5m.
"As soon as Chelsea made it clear they were prepared to let me leave, I was keen on this move," Parker told Newcastle's official website.
"I've played here a few times. I know how big the club is. I was impressed with the manager Graeme Souness. He's a major factor behind my decision."
Parker admitted he had been frustrated by the lack of first team opportunities offered to him at Chelsea since his move from Charlton in January 2004.
"I was a key figure at Charlton and playing every week, and then all of a sudden at Chelsea I wasn't a regular and had to get used to being on the sidelines.
"But that has made me a stronger person and I don't leave Chelsea believing that I have failed.
"I have learned a lot there and developed as a player and I'm confident you will see that at Newcastle next season.
"I have a desire to win things and I feel that at Newcastle I can do that," he said.
"The manager has given me a huge lift, I feel wanted again and I know I can do a good job here."
Newcastle chairman Freddy Shepherd said Parker had been the club's main target for some time.
"He is our first signing of the summer and will be a valuable addition to our squad," he told Newcastle's website.
"He is still young but has a lot of experience and we welcome him to Newcastle and look forward to seeing him in a black and white shirt."