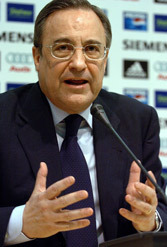 Wembley will be a sea of blue this Saturday as it's Chelsea and Everton in this year's FA Cup Final. Click here all the early match odds.
Real Madrid presidential candidate Florentino Perez is confident of being able to tempt the majority of his transfer targets to the Santiago Bernabeu, while he also promised fans "a great team and a great coach".
Perez is the favourite to return to the post he held from 2000-06 and, unless a rival candidates steps forward before the May 31 deadline, he will take office unopposed
Three other candidates had entered the race but Eugenio Martinez Bravo, Juan Onieva and Eduardo Garcia have all pulled out of the running in the last fortnight.
Although he has so far refused to identify his playing and coaching targets, Perez insists the world's leading players will be eager to join the club.
"I'm sure that now the majority of the players are going to want to come to Madrid, to a new project," said Perez.
When asked to comment on reports linking Madrid with Milan playmaker Kaka, Perez told Marca: "Until the competitions finish we are not going to talk with the clubs, but I've always spoken of my great relationship with (Milan vice-president Adriano) Galliani and this relationship maybe makes it easier that Kaka comes to Madrid. I've talked with Galliani many times about football and also about Kaka, but this is a theme that we have to postpone until after Sunday."
Perez was also asked about Manchester United winger Cristiano Ronaldo, with the presidential hopeful of signing him, saying: "He's also a player that would be very good if he came to Real Madrid. What I know is what I've read, that there is an agreement by means of which he would come for £80m."
Asked if he would pay that amount, Perez added: "Next week we will look at the numbers and nobody should doubt that we are going to design with our sporting advisors a spectacular project."
Perez admits there are unlikely to be any surprises when Real finally start bringing players in.
"It's impossible (for a surprise signing), in the last three months all the players in the world have been talked about," he continued. "There aren't any more players to talk about. I'm grateful that everybody has placed with me some great hopes and I'm going to try and not disappoint them.
"But also I have to say that not everyone can come, among other things because they won't all fit. We also need to move some players out before some come in."
Madrid are also believed to be on the look-out for a new coach, with Juande Ramos' six-month contract expiring this summer are being linked with high profile candidates such as Arsene Wenger, Jose Mourinho, Carlo Ancelotti and Manuel Pellegrini.
"There is a short list of coaches, but no decision has been taken," said Perez. "We are going to have a great coach."
Perez admits Madrid have plenty of ground to catch up with rivals Barcelona who completed the treble with Wednesday's Champions League victory over Manchester United.
"The great season Barcelona have had serves to encourage me," said Perez. "We are going to make a big effort to recover the lost time. We need to recover in a year the lost time, but we are going to do it," he said.
"We need to do a great job. We have many players and we have to have other players as well. I'm going to work with all my hopes to have a winning team from this very season."
Wembley will be a sea of blue this Saturday as it's Chelsea and Everton in this year's FA Cup Final. Click here all the early match odds.
For more fascinating features, subscribe and save 30% and use the below link?