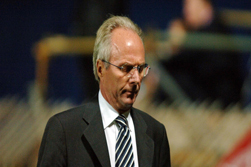 Newcastle striker Michael Owen has played down talk of disunity within the England camp, claiming the squad is fully behind coach Sven-Goran Eriksson.
Amid reports that Eriksson had lost the support of the players following England's 1-0 defeat to Northern Ireland last month, Owen was dismissive of the claim.
"Nothing could be further from the truth. The players are fully behind the manager," Owen stated.
After England's World Cup qualifying defeat to Northern Ireland last month, Eriksson's position was questioned with some observers claiming that captain David Beckham wielded too much influence.
But Owen believes the England squad is fully behind Eriksson.
Owen said: "This is a tight squad, with a firm belief both in ourselves and in Sven-Goran Eriksson and the coaching staff.
"Team spirit will be important over the coming days. Rest assured, it is as strong as ever.
"His record in competitive games is outstanding and people seem to have forgotten that the defeat against Northern Ireland was his first in a qualifier in over four years.
"Perhaps we have got used to a certain level of success under Sven. I have not changed my belief that he is the right man to lead us to Germany and achieve success there."
England must beat Austria on Saturday and then Poland on 12 October to guarantee a place at Germany 2006.