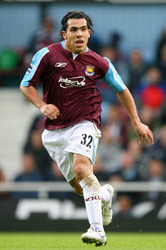 Help us with a Sport and Betting Survey and win a £50 Free Bet! Click here to take part now.
Wigan chairman Dave Whelan believes Premier League chief executive Richard Scudamore should consider his position in the wake of the Carlos Tevez controversy.
Whelan believes the league should have cancelled Tevez's registration after the London club were found guilty of breaking rules over his signing.
In a letter to the League, Whelan accused Scudamore and chairman Dave Richards of a "deriliction of duties".
"The pair of you should consider resigning."
West Ham were found guilty of breaking two Premier League rules when they signed Tevez and fellow Argentine Javier Mascherano last August.
An independent commission fined the club £5.5m and told the Premier League it could terminate Tevez's registration.
But West Ham confirmed that they had torn up the original contract with third-party company MSI/JSI and Tevez was allowed to play the following day – coincidentally in a 3-0 victory over relegation rivals Wigan.
Whelan, who has sent the letter to all the Premier League chairman, added: "I would like to once again ask the question in my email of 11 May, did you actually receive a copy of the documentation from West Ham which showed that the original agreement between West Ham and MSI/JSI had been cancelled?
"The judgment given by the independent panel ordered that the registration of Tevez could be terminated by the Premier League.
"You then proceeded to hold a board meeting by telephone between yourself, the chairman and the secretary.
"I am appalled that the chairman would allow such an important decision to be made on the basis of a telephone call.
"Surely a decision of this magnitude required an open and full discussion.
"You had been ordered by the chairman of the commission to seriously consider the termination of this contract.
"Your failure to do so in my mind is a dereliction of duties of both the chairman and yourself and you should consider resigning."
Help us with a Sport and Betting Survey and win a £50 Free Bet! Click here to take part now.