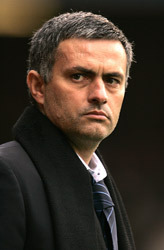 Jose Mourinho believes Liverpool will face growing pressure to deliver next season following their summer transfer spending spree.
The Reds boss has already spent around £40million this summer on Fernando Torres, Ryan Babel and Yossi Benayoun, convincing Mourinho that the pressure on the Reds to end their 17-year title drought will be huge.
"The pressure is a bit higher [on Liverpool] because, at this moment, they cannot point at other people," said the Chelsea boss.
"In other years, they could say: 'Oh, these guys, they've spent a lot of money so they have to win'. This season, they have to talk differently. They have high responsibilities and high expectations.
"In the last three years, it's been Chelsea and Manchester United in the league, and it's been a long time since Liverpool won the Premiership. So they really want it.
"I heard something earlier this summer – [Steven] Gerrard, [Jamie] Carragher and [John Arne] Riise saying it has to be this season. That's normal, and positive. I cannot complain about that. Everybody wants to achieve it.
"We want it too, no problem. But it's been four years with Benitez and they want the Premiership. They don't hide it – Benitez, the players, they all speak about winning the title.
"I think winning nothing last season was frustrating for them, but they've got a good squad and good players, so they'll be better."
Mourinho also tips Tottenham to be a good outside bet for the title.
"It's just a personal opinion," added Mourinho.
"But they have more players in the England team's squad than anybody else: [Paul] Robinson, [Ledley] King, [Michael] Dawson, [Aaron] Lennon, [Jermain] Defoe, [Darren] Bent, they're a very good group of players.
"They've spent money and kept all the important players, even Dimitar Berbatov, who everyone thought would leave. And they will be without pressure, so they should be there, creating a difficult situation for us.
"It is the same with Arsenal. There is no Thierry [Henry], but they were almost without him last season, too, and they have very, very good young players who they can mix with their important experienced players.
"Not many people expect them to do it, and that could be in their favour. They will see what happens but I think, in the back of their minds, they will believe.
"Manchester United have kept the same first team, basically, and have more options now with Nani, Anderson and Owen Hargreaves. If Carlos Tevez goes there, he's another good player for them. They've done their work well this summer.
"They had money to spend, and they spent it. I know when Chelsea were spending lots of money everybody was jumping. I don't jump because other people spend. They can do what they want with their money.
"They are contenders for the title, of course, but I still believe Chelsea have the best players in the world."