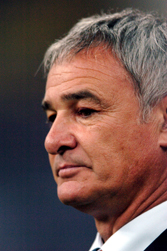 Claudio Ranieri has denied reports claiming he has to manage Manchester City.
The Parma coach is believed to be Thaksin Shinawatra's first choice to succeed Stuart Pearce if the former Thai Prime Minister completes a £120million takeover of the Premiership club.
Ranieri's stock hass risen in recent months after he led Parma to Serie A safety.
However, the man who led Chelsea to the Champions League semi-finals in 2004 has not decided where he will be next season.
"I have not signed with anyone and I challenge anyone to contradict me on that," Ranieri told the Manchester Evening News.
"Now I will take a three-day break, talk to Parma and we will make a relaxed decision together."