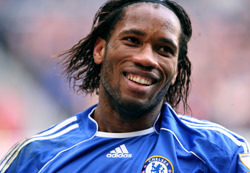 Eduardo Garcia, who is standing for the Real Madrid presidency, claims to have an agreement with Didier Drogba.
He says that should he win the Primera Liga club's elections in June, he will sign the Chelsea striker.
Presidential elections at Santiago Bernabeu are usually accompanied by promises made by candidates regarding possible transfer business.
"We have agreements with three players," he told AS.
"A Champions League centre-forward who scores goals in England. We could present him just after being elected. With people like Drogba we are looking for immediate results."
Garcia also added that he would sign a Brazilian playmaker currently playing in his homeland and a left-back from Racing Santander.
Reports in Spain suggest the duo could be Palmeiras forward Keirrison and 21-year-old defender Ivan Marcano.
For more fascinating features, subscribe and save 30% and use the below link?