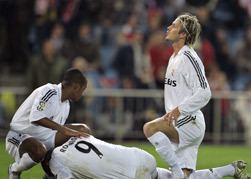 Real Madrid and David Beckham have issued a statement denying that they have opened talks over a new contract for the England skipper.
Reports at the weekend claimed the 30-year-old had demanded a huge wage rise to make him the best-paid player at Real.
But Real's statement said: "There has been no conversation about extending his contract, which ends in 2007.
"It is not true that the player has asked for any type of contractual or financial improvement for the future.
"A date for discussions between the club and the player has not been established.
"David Beckham has assured us that he is happy in Spain and at Real Madrid. Moreover, the club values the excellent commitment and hard work of the player."
According to reports, Beckham was demanding an estimated £770,000 a week to pen a new deal. Such a figure would dwarf the amount earned by fellow Real galaticos Ronaldo and Zinedine Zidane.
Any such deal would make Beckham – who has become one of the most successful sponsorship properties ever – the third highest-paid sportsman behind only Formula One star Michael Schumacher and golf sensation Tiger Woods.
It had been claimed Beckham wanted a salary of £40m a year and the lion's share of profits on merchandise sales directly featuring him.
Beckham, who joined Real in a £25million deal from Manchester United two years ago, has stated he wants to stay at the club for the rest of his career.