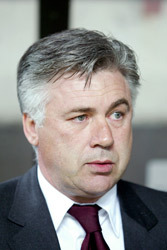 According to reports in Spain, Real Madrid have opted for Milan's Carlo Ancelotti as their next coach.
Real are looking for a permanent replacement for Juan Ramon Lopez Caro, who has been the caretaker boss since Wanderley Luxemburgo's dismissal last December.
The club drew up a shortlist of seven candidates earlier this month, but it appears Ancelotti is the favourite.
"It is going to come from one of seven coaches," said Real presiden Fernando Martin. "We are clear about what type of coach we want and we want one of the ones that you all know.
"I am not going to say them in order of preference, but they are Mourinho, Capello, Benitez, Wenger, Ancelotti, Lippi and Eriksson."
Cadena Ser Radio claimed that Real had reached a deal to bring Ancelotti to Madrid at the end of the season, withg an announcement expected when Milan's Champions League campaign comes to an end. Milan trail 1-0 following their semi-final first leg tie with Barcelona.
The programme also claimed that Ancelotti had made Arsenal captain Thierry Henry his prime transfer target for the summer. Henry has been linked with Real's arch-rivals Barcelona.
Real failed to make the quarter-finals of this season's Champions League after being knocked out by Arsenal and trail Barcelona by 13 points in the Primera Liga.
Subscribe to World Soccer – The essential football magazine.