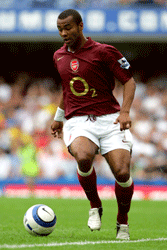 Real Madrid have revealed that they are interested in signing Arsenal's England left-back Ashley Cole in the summer.
The Spanish club have been linked with a move for the 25-year-old, who is seen as a replacement for Roberto Carlos.
And a Real spokesman was quoted as saying: "Ashley Cole will be one of the players for whom Real Madrid is going to bid at the end of the season."
However, Cole says he wants to stay to play in Arsenal's new Emirates stadium next season.
"I've three years left on my contract at Arsenal and I'm looking forward to playing in the new stadium," said Cole.
"The speculation has been in every paper since the start of the season, but there's nothing I can do, people are going to write stories.
"My main aspiration at the moment is to try and get back fit, that and trying to win things with Arsenal."
Meanwhile, Brazilian defender Carlos, who has been at the Bernabeu since 1996, said he was unconcerned by the suggestion that Real were linig up a replacement.
"This type of speculation does not affect me, because Real always have to look for the best players," said Carlos.
"I have a contract for two more seasons, with the last year being an option which is down to me."
Subscribe to World Soccer – The essential football magazine