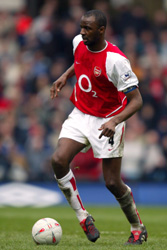 Real Madrid are reported to have sent a representative to meet Patrick Vieira to discuss a possible transfer to the Bernabeu.
Club director, José Angel Sanchez, has already spoken to Highury vice-chairmanDavid Dein to inform him that Madrid are interested in signing Vieira. Although desperate to retain their captain, Arsenal would be prepared to sell if Real matched their £30m valuation of the midfielder.
Vieira intends to hold clear the air talks with Arsene Wenger this week, having informed him of his desire to quit Highbury following France's exit in the quarter-final of Euro 2004.
Meanwhile, Real defender Ivan Helguera has identified Vieira as the man to fill the void left by last year's departure of holding midfielder Claude Makelele.
Makelele was sold to Chelsea for £16m last season.
"Since we sold Claude Makelele, it can't be denied that we've not really had a defensive midfielder like him," said Helguera.
"Vieira is a player who has all the necessary defensive characteristics.
"Guti and David Beckham did a good job for us last season but Claude was important for the whole side and this season we need a great player to take his place."