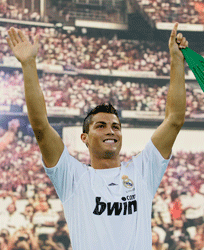 Skybet have slashed their odds on Franck Ribery joining Liverpool – do you believe Benitez will land the Frenchman?
Real Madrid will need to sell at least five players to raise the cash to fund more signings, the club's director general Jorge Valdano has revealed.
Under new president Florentino Perez, Real have spent more than €200 million sicne the transfer window opened, including a record €93 million on Portuguese winger Cristiano Ronaldo, €67 million on Brazilian playmaker Kaka and €35 million on French striker Karim Benzema.
"We need money to continue being active in the market. And at the moment to get money we have to sell players," Valdano told Reuters.
"We need to trim at least five players from the squad. The priority over the next few weeks is the sale of players and not the signing of new ones."
Spanish media have speculated that several of the club's six-strong Dutch contingent might leave. Strikers Ruud van Nistelrooy, Klaas Jan Huntelaar, winger Arjen Robben and midfielder Wesley Sneijder are among the names linked with a departure from the Bernabeu.
"Things are progressing with some players," Valdano said when asked how talks on potential sales were going.
"But a bit of calm is needed in some cases because we have to complete the negotiations with the clubs."
Real are looking to raise enough money to buy another central midfielder and a defender, Valdano said, and hinted that Sneijder could stay on for this season.
"We need two players for each position," he said. "There are some positions where we have four players and others where we have one. Sneijder is a player that at the moment is important for the club."
Valdano said it was "football fiction" to think that Real would ever attempt to lure Argentina winger Lionel Messi from arch rivals Barcelona.
"At the moment we have not thought about any (Barca) player," he said. "We are involved in another kind of analysis. We have no intention of talking about any Barcelona player."
Valdano also dismissed criticism of Real's policy of spending huge sums on big-name players, arguing that such signings boosted the club's coffers.
"When a name like Kaka or Cristiano Ronaldo arrives at a club a virtuous circle is created which is positive in both economic and sporting terms," he said.
"We are hoping for the same effect this time around. I think it's time that Real Madrid was considered a model to follow and not something that needs combatting."
He said he was confident the new signings would help boost income, even in a time of global recession.
"You have to respond in some way to the crisis. Sometimes these situations create great opportunities. Probably without the crisis we would not have been able to sign Cristiano Ronaldo and Kaka."
Skybet have slashed their odds on Franck Ribery joining Liverpool – do you believe Benitez will land the Frenchman?
For more fascinating features, subscribe and save 30% and use the below link?