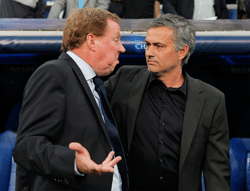 Guus Hiddink is favourite to be the next Chelsea manager as rumours of Carlo Ancelotti's departure intensify…
Tottenham boss Harry Redknapp has refused to criticise goalkeeper Heurelho Gomes after his error against Real Madrid.
A relatively tame shot from Cristiano Ronaldo squirmed through the hands of Gomes as Real claimed a 1-0 win at White Hart Lane in the second-leg of their Champions League quarter-final clash to progress 5-0 on aggregate.
But Redknapp refused to apportion blame onto the keeper.
"It was a mistake and it was a disappointing goal to concede but I'm not about to start blaming the keeper as he has been great for me ever since I took over as manager," said Redknapp.
"Gomes made a rare mistake but that is how it goes.
"He has made fantastic saves for us that he has had no right to make at times this season. I have no complaints."
Redknapp thinks Spurs were denied a couple of clear penalties, one coming as Luka Modric was bundled over by Xabi Alonso.
"It was definitely a foul on Modric but sometimes you get them, sometimes you don't," he said.
"Sometimes I am left wondering what the official behind the goal is supposed to be doing."
The Spurs boss feels that Real will have a battle on their hands if they are to come rivals Barcelona in the semi-finals.
"Barca are the best team I've seen in the last 30 years. I don't think there is anyone out there who can touch them," he concluded.
Guus Hiddink is favourite to be the next Chelsea manager as rumours of Carlo Ancelotti's departure intensify…