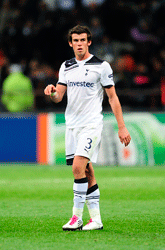 Euro 2012 betting podcast: The easyodds experts give their Wales v England tips…
Tottenham manager Harry Redknapp has denied Wales' claims that Gareth Bale was injured when he reported for international duty.
Bale will miss Wales' Euro 2012 qualifier with England on Saturday as he has a hamstring injury.
Bale reported for duty expecting to play against England having lasted the full 90 minutes in Tottenham's previous game against West Ham, only for the injury to be spotted by Wales' medical team.
"I wouldn't have let him go if he had an injury," Redknapp told the Daily Mail.
"Gareth played for 90 minutes against West Ham on Saturday and they tell me the figures from that game show he covered more ground than he's ever done before.
"There was no sign of a hamstring injury. He's not come in after the game and said his hamstrings were tight.
"When he left here on Saturday, off he went and he certainly wasn't injured.
"He hasn't had a hamstring injury. He had a back, then he had a tight thigh and we've been very careful with him.
"Now he's got a hamstring. He must've done it with Wales. I'm not blaming anyone. It's no-one's fault.
"The first I heard of it was at 10 o'clock on Wednesday night when our physio called me. I feared the worst but he's seen our physio and it's only tightness.
"There's no tear but if he plays and it pings, he's had it."
The Football Association of Wales released a statement explaining that Bale had felt some muscle tightness after playing in Tottenham's 0-0 draw with West Ham at White Hart Lane on Saturday – the winger's first start since 22 January.
"On joining up with the Welsh squad he was kept off his feet in training for two days to recover," added the statement.
"As he still felt tight in the warm-up on Tuesday, Gareth was pulled out of the session.
"He did not train at all on Wednesday and was sent for a scan.
"The scan revealed that Gareth Bale picked up his injury last week."
Euro 2012 betting podcast: The easyodds experts give their Wales v England tips…
Take advantage of the sales by saving up to 36% on a subscription to World Soccer