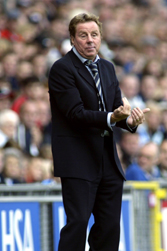 Harry Redknapp has returned to his former club Portsmouth to poach Kevin Bond to become his first team coach at St Mary's.
Bond was on the coaching staff at Fratton Park with Redknapp, and had been in temporary charge of first team affairs at Portsmouth following Redknapp's resignation last week.
Jim Smith, Redknapp's assistant at Portsmouth, also looks set to join him at St Mary's when he returns from a trip to Dubai.
Redknapp said: "Kevin is joining me today but Jim is away on holiday. When he comes back we'll sit down and talk."
The former Portsmouth boss replaced Steve Wigley, who yesterday was relieved of his position after just one win in 14 league games in charge.
Redknapp, 57, quit his Fratton Park position on 24 November and vowed not to jojn arch-rivals Southampton: "I will not go down the road – no chance," he said at the time.
However, Redknapp said he did not anticipate any problems.
"Both sets of fans are full of passion and appreciate the sort of football I play," he said.
"I can't think of a similar situation on the south coast but I don't see a problem with the vast majority of either fans.
"The game on 23 April (when the two clubs next meet) will be a cracker."