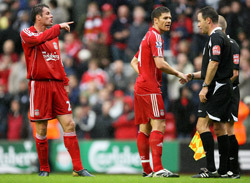 Will England beat Germany? Put your money where your mouth is and click here now
Rob Styles, the referee who awarded a controversial penalty to Chelsea in Sunday's Premier League clash with Liverpool, will not officiate in the Premier League next weekend.
Styles was criticised for awarding a debatable penalty to Chelsea which allowed the Blues to earn a point at Anfield.
Referees' chief Keith Hackett told BBC Radio 5live: "It is just like with players, if they miss an open goal they are likely to be dropped."
Hackett has apologised to Liverpool boss Rafael Benitez for the error.
Hackett added: "I spoke to Rob this morning and obviously he is extremely disappointed with the decision and admitted he got it wrong. I have left a message with Rafael Benitez to apologise.
"Having looked at a video and seen a better angle and a better view, clearly he (Styles) now recognises that he got it wrong and he's deeply apologetic for that. I think, in fact, he too will be making contact with Liverpool in order to offer his apologies."
Asked about the confusion when Chelsea's Michael Essien appeared to be booked for a second time, Hackett said: "I'm informed by both the fourth official and Rob he retained the card shown to John Terry then held the card to indicate a direct free-kick, and failed to put the card away.
"So it was a basic, if you like, admin error as against an error in application of law.
"We'll look at the video to ensure we don't get a repeat of that."
Benitez was furious at Styles' decision to award a penalty.
"That decision is impossible to explain, it was the invisible penalty" said Benitez after the 1-1 draw.
"I want to have a lot of respect for referees, but sometimes I cannot understand why they give some decisions.
"I think he will watch the video of the match and admit that his penalty decision was a mistake."
Will England beat Germany? Put your money where your mouth is and click here now