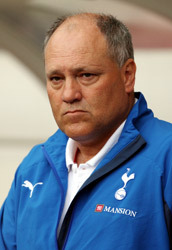 Are you a football fan? Answer a few footy questions and be in the running for a £50 Free Bet. Click here!
Martin Jol admitted he was relieved Tottenham's remarkable comeback against Aston Villa, conceding he did not want to consider the consequences had his team lost.
Spurs came back from 4-1 at home to Villa after an hour of Monday's game at White Hart Lane before earning a 4-4 draw.
A home defeat would have increased the pressure on Jol and the Dutchman acknowledged his future has been preying in his mind since the start of the season.
"At half-time we said we have to play for the shirt and give everything – they did that," said Jol.
"It was relief in the end. A win would have been better. I don't even want to think about it if we would have lost.
"I thought about my future for the last six weeks, so that's nothing new. I think about my future because I want to be better and better."
Asked if he thought his position was under threat, Jol replied: "I don't know. It's not up to me."
With Spurs celebrating their 125th anniversary at the game, Jol was determined to accentuate the positives.
"It was a night about football," he added. "I don't want to think about negative things. It's not about results or the league, it's about the celebration.
"We spoiled that, that was awful to concede the goals like we did before.
"But my family are all in the marines and a commander never leaves his troops. If he does that he's lost. I kept my head cool and they have to do it. The only thing I can do is make substitutions.
"I'm happy for the supporters that there was a sort of celebration."
Meanwhile, Tottenham striker Robbie Keane insists Jol has the full backing of the players
"He has the support from everyone – he's shown what a good manager he is over the past few years," said Keane.
"We're going through a bit of a sticky patch at the moment.
"To come back from 4-1 down is unbelievable. We showed lots of character – that is what we have in this team.
"You should have seen our manager at the end when we scored the goal."
Are you a football fan? Answer a few footy questions and be in the running for a £50 Free Bet. Click here!