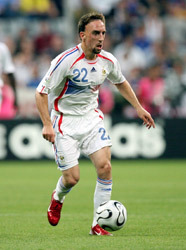 French midfielder Franck Ribery has changed his mind about leaving Marseille and said he wants to stay with the club.
"My club is Marseille and I'm happy playing for Marseille," Ribery told reporters on Thursday after his side's 3-3 draw against Bern Young Boys in the preliminary round of the UEFA Cup.
"I have talked to (club's main shareholder) Mr. Dreyfus and to president Mr. Diouf. I feel great and I hope we are going to have a good season.
The 23-year-old midfielder pledged his future to Marseille 10 days ago before undergoing a u-turn last week.
"My wish is to leave Marseille," Ribery said at the time. "I want to play in the Champions League.
"The Marseille club officials know where I want to go and the club I wish to sign for also know it.
"My choice is made and I will not go back. Now both clubs have to reach an agreement."
Media reports linked him to a move with either Lyon or Arsenal but he has now once again committed himself to Marseille.
"Our main goal now is to finish the season in the first three to play in the Champions League next year," Ribery said.