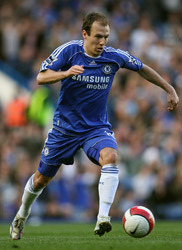 Arjen Robben is only speaking to Chelsea and not to any other clubs, according to his father and agent.
The Dutch winger has been offered a new long-term contract by Chelsea, but has also been attracting interest from the continent, with Real Madrid reigniting interest in a player whom their president, Ramon Calderon, pledged to buy in his election manifesto.
Hans Robben, the attacker's agent, remains confident his son will sign a contract with Chelsea.
"At this moment we are in negotiations with Chelsea and we try to make a new deal," Robben snr told Sky Sports News.
"And if it doesn't happen, he still has a two-year contract left, so there's no rush and there's no problem.
"You never know in football, but there's a big possibility that he plays for Chelsea next season.
"What I do with negotiations is always just stick to one party. At this moment, it's Chelsea.
"If we don't have a deal, there may be another club, but while he still has two years' contract left I don't see any reason why we should talk to any other club.
"I don't do it (talk to other clubs). I just stick with one club, always one party and no other one."