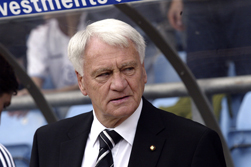 West Bromwich Albion are refusing to comment on reports they have made an approach to Sir Bobby Robson to take over at The Hawthorns following yesterday's sacking of Gary Megson.
Robson has been tipped as the early favourite to succeed Megson.
Megson was dismissed after revealing he would not sign a new contract.
Megson's departure had been looked a possibility for several weeks after he fell out with chairman Jeremy Peace over the lack of funds available for strengthening the squad.
In a official statement Albion said: "Gary Megson informed the board of West Bromwich Albion by letter that he wishes to leave the club at the end of his current contract in approximately eight months' time on 30 June 2005.
"The club accepts this as a letter of resignation and the board believes it is now in the best interests of West Bromwich Albion that Gary Megson no longer remains in charge of team affairs.
"As such, he has been relieved of his duties while contractual matters are resolved."
Megson had earlier confirmed that he would not be signing a new contract with the club.
"I won't sign a new contract," he stated. "I don't intend to talk any more about the decision I have made.
"I have a contract until 30 June and I intend to carry on doing my job until then.
"I will give all the effort and drive that I can to succeed on behalf of the football club.
"If training is not going good enough, if the results don't go the right way, I will continue to be upset about it."