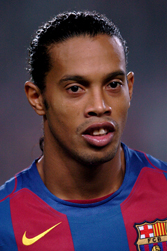 Brazilian midfielder Ronaldinho hailed Barcelona's 3-0 destruction of Real Madrid in the Bernabeu on Saturday as the "perfect" performance.
"It was the kind of game you dream about, it was a perfect display," Ronaldinho said afterwards.
The win took Barcelona to the top of the Primera Liga, four points ahead of third-placed Real.
Cameroon striker Samuel Eto'o opened the scoring after 15 minutes and Ronaldinho scoredtwo brilliant individual goals in the second half.
Ronaldinho was given the rare accolade of a standing ovation by the home fans for his outstanding performance.
"For me it was a very emotional moment and I will never forget it because it isn't often opposition fans applaud you," the Brazilian admitted.
"It isn't something that you expect to happen in your career. I didn't know that it had only happened here before with Maradona."
Barca captain Carles Puyol said: "Ronaldinho is the best player in the world. He showed it today but he has also demonstrated it in other games.
"It is a surprising scoreline but Ronaldinho's plays and the work of the rest of the team earned us the victory."
Real defender Michel Salgado was distraught after a match which ended with the home players being jeered from the pitch.
"We are shattered. It's been a hard blow," he said.
"Barca were better up front, defended better and played better. We have to face the facts because we gave the fans nothing to cheer about.
"It's the worst game I've been involved in since I have been at the club. We will continue to fight for the league but it clearly won't be easy."
Subscribe to World Soccer – The essential football magazine