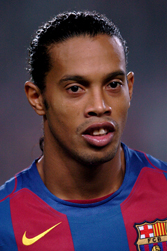 Barcelona playmaker Ronaldinho has ruled out a move to England insisting he has no plans to leave Camp Nou.
The World and European Player of the Year has been linked with a possible move to England with Chelsea believed to be ready to launch an audacious world record bid for his services.
But Ronaldinho, who will come up against Chelsea in ten days time in the Champions League, says that he is has no plans to quit Barca.
"I had the chance to play for Manchester United and turned it down, so why would Chelsea be any different? I love life in Spain and I have no desire to leave Barcelona," said Ronaldinho.
"It's hard to imagine that I could possibly be any happier at another club – I don't think I would.
"I believe in loyalty and that would only ever change if Barcelona decided they wanted to sell me. There's no indication that will happen and I would be extremely disappointed if that was the case.
"I have a great relationship with the coach and officials and I love the fans. I also owe them. My career had gone through a difficult spell in France, it was the wrong move for me.
"And it just goes to show that money doesn't make you happy – no matter how much you earn. If you are not happy at work, it's no compensation. No matter who you are it's the simple things in life that lead you to believe that you can achieve anything."
Meanwhile, Ronaldinho has warned Chelsea that he is seeking revenge for last season's exit at the same stage of the competition.
"Losing is not an option for us," added Ronaldinho.
"Last season's defeat ruined a great season for me and with the World Cup finals upon us I don't want to go into the tournament with any negativity.
"My dream was to win the Champions League with Barcelona and I thought we had a great chance of going all the way until the horror show at Chelsea last season.
"It was a bizarre game. To go down 3-0 after 20 minutes would have killed off most teams. But we managed to get two goals back only to concede a fourth, and that was that.
"I didn't sleep well after that, I really didn't. I was heartbroken.
"We could have lost to anyone. It didn't matter that it was Chelsea – it was going out that hurt."
Subscribe to World Soccer – The essential football magazine