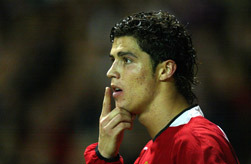 Cristiano Ronaldo has admitted that he aims to play in Spain after rumours that Real Madrid were considering making a bid for the Portuguese winger in the summer.
"If God wants it then one day I will play in the Spanish league," The Manchester United winger told Marca. "It is one of my aims, but I am just starting out in the game.
"I am content and pleased because it (Real Madrid) is one of the greatest clubs in the world.
"Nobody knows what the future holds. I do not give these things much importance. The best thing is to allow things to run their course. What ever will be, will be."
Ronaldo believes the English game is on a par with its Spanish counterpart, but feels that he would florish in La Liga.
"They are the best leagues in the world," he said. "The football in Spain is more open though, with less physical contact and maybe because of this one can play a more attacking and spectacular game, more technical and skilful."
Despite expressing his interest, Ronaldo has denied that he is angling for a move away from Old Trafford.
"I am playing for one of the biggest clubs and only think about Manchester United," he concluded.
Subscribe to World Soccer – The essential football magazine.