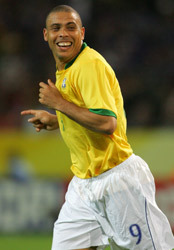 Listen to the thoughts of our in-form tipsters in the Premiership betting podcast!
Brazilian legend Ronaldo has confirmed that he is retiring from playing with immediate effect.
The 34-year-old brings an end to his illustrious career after admitting his body can no longer cope with the demands of the game.
He helped his country to two World Cup wins and was named World Player of the Year three times, but he also had to fight back from a series of career-threatening injuries.
"I can't take any more," he told Estado de Sao Paulo.
"I wanted to continue, but I can't do it any more. I think of an action, but I can't do it the way I want to. It's time.
"It's the body that's hurting me. The head wants to go on, but the body can't take any more."
Ronaldo had intended to retire at the end of the season, but a succession of injuries and the elimination of his club, Corinthians, from the Copa Libertadores, appears to have pushed the date forward.
Ronaldo won the World Cup with Brazil for the first time in 1994, though on that occasion the 17-year-old did not play in any of the games.
In 1998, he was a losing finalist, a member of the side beaten 3-0 at the Stade de France by hosts france.
Ronaldo suffered a convulsive fit on the eve of the match and was removed from the starting line up before being reinstated shortly before kick-off, although he was a shadow of himself in that game.
Shrugging off injury in the 2002 finals, which was hosted by Japan and South Korea, he played a key role in helping Brazil to the trophy.
His final World Cup appearance came in 2006, where despite appearing unfit, he ended the tournament with three more goals to become the all-time top scorer in the finals with a total of 15.
His club career began at Cruzeiro and took him to some of Europe's top clubs, including Barcelona and Real Madrid in Spain, and Inter and Milan in Italy, before returning to hos homeland with Corinthians.
Listen to the thoughts of our in-form tipsters in the Premiership betting podcast!
Take advantage of the sales by saving up to 36% on a subscription to World Soccer