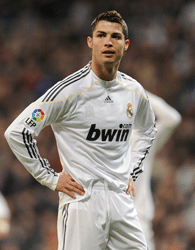 Wolves are now a best price 4/6 to be relegated after their 3-0 defeat to Stoke…
Cristiano Ronaldo has admitted he was unhappy with Jose Mourinho's tactics against Barcelona, while implying that Real Madrid would have been happy with a 0-0 draw at the Bernabeu.
Asked if he was pleased with the style of football Madrid had played in the 2-0 defeat in the Champions League semi-final first leg, the £80m winger replied: "No, I don't like it but I have to adapt to what is asked of me." He added: "This is the way it is. We have a strategy."
Having initially been asked to play as a lone striker Ronaldo was seen encouraging his team-mates to get forward and support him. When he was then switched to the right to take on Carles Puyo, he found himself starved of the ball.
"Being honest, it is true that we did not have a shot on target when it was 11 against 11 but 0-0 is not a bad result at home," he added. "We could have gone [to Camp Nou] and scored. We didn't play well but the game was under control."
Before the match there was much speculation about the showdown between Ronaldo and Leo Messi as to which of them was currently the best player in the world.
"Messi?" he replied, when asked about the Argentinian's two goals. "It's easier against 10 men. I would like to play against 10 men too, like he does. It is no excuse but they always play against ten men.
"I don't understand why this always happens. I couldn't talk to the referee because if I had I would have got a card for sure. The ref sent off Pepe: what more can I say? Every year is the same.
"I feel bad for us and for Mourinho – because it always happens to him. Barcelona are a great team but these guys have a lot of power off the pitch too. Chelsea, Inter, Arsenal. It's always the same. Is that a coincidence?"
Wolves are now a best price 4/6 to be relegated after their 3-0 defeat to Stoke…