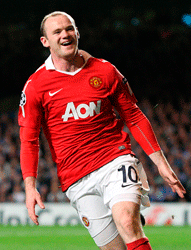 Cardiff are now a best price 11/10 to be promoted after their 2-0 win at Sheffield United moved them up to second…
Wayne Rooney has admitted he lost his temper when he swore into a live TV camera after scoring against West Ham at Upton Park, and that he was wrong to have done so.
The Manchester United striker, 25, was banned for two matches by the Football Association and will miss Saturday's FA Cup semi-final with Manchester City.
"I didn't realise what I'd done," he told talkSPORT. "It was just emotions."
After helping United into the Champions League semi-finals four with a 3-1 aggregate victory over Chelsea on Tuesday, Rooney accepted that his conduct had been unacceptable.
"It was a release of scoring the three goals to get us back in the game," he said.
"As soon as I realised after the game I apologised as soon as I could.
"Of course, it was wrong of me to do.
"But I accept my punishment and you just have to move on. Hopefully the boys can pull through for me on Saturday, and hopefully get to that FA Cup final."
Rooney also admits being surprised at the fuss created by a parting of the ways with former sponsors Coca-Cola.
Media speculation suggested he was dropped after the swearing incident, but Rooney says they ended their relationship last year.
"I spoke with Coke towards the end of last season about signing a new deal and, with the Olympics coming up, they wanted a bit more of my time to do more commercial appearances," he said.
"I just didn't have the time to do it.
"This all happened at the end of last season – so I haven't been with Coca-Cola since 2010, but it's only just come out now. It makes me laugh when people say I have been dropped by them."
Rooney also spoke in glowing terms of two of United's elder statesmen, Ryan Giggs and Paul Scholes.
"He is just incredible," Rooney said of Giggs.
"What he's done for Manchester United and what he's done for the young players, it's absolutely fantastic to have him at the club. He's a genius and I don't think it'll be too long before we're calling him Sir Ryan in my opinion."
Rooney also praised fellow United veteran Scholes, now 36.
"Scholes is the best footballer who I have ever played with," he said.
"His vision, his passing, everything about him. He's world class.
Of his own displays, Rooney added: "It's been a tough season for me, but I'm pleased with my form and the results we're getting.
"I'm playing in a slightly different position now – which means I'm getting more of the ball and can dictate the game."
Cardiff are now a best price 11/10 to be promoted after their 2-0 win at Sheffield United moved them up to second…