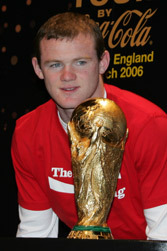 England striker Wayne Rooney is optimistic about England's chances of winning the World Cup.
Sven-Goran Eriksson's side go to the finals in Germany this summer as one of the favourites for the title.
Rooney said: "We have a lot of good players in the squad and we will be disappointed if we don't come back with the World Cup.
"We have a good chance. We have a lot of experienced players and a lot of young players as well.
"Over the last year we have been playing well and hopefully we can take that into the World Cup finals and come back as winners."
Rooney was presented alongside the trophy on Thursday in London as it made its first appearance in England as part of a nationwide tour.
"Some of the greatest footballers ever have lifted this trophy so it was an awesome feeling to get up close to it," said Rooney.
"The boys will do everything they can to make sure we see it back here."
"It's the biggest tournament in the world and hopefully I'll pick it up then. Then is the time to pick it up. Only the winners should touch it, everybody else should just leave it alone."
Rooney recalled that his first memory of the World Cup was only eight years ago at France 98.
"I was 12 and watching the England-Argentina game at my nan's," he continued.
"It was disappointing that we went out on penalties but after the game I went out into the street and pretended to be Michael Owen."
Now Rooney will line up alongside Owen and he added: "At the age of 12 I was just a young lad but I wanted to become a professional football but I didn't think it would come too soon.
"I want to go out, try to express myself and do well for the country."
Meanwhile, England skipper David Beckham played down the injury scares to key players such as Michael Owen and Ashley Cole.
He told The Sun newspaper: "We have injured players who are very important to us, like Michael Owen and Ashley Cole, but I'm not worried they won't make it.
"Both of them have proved in the past they can recover from injuries quickly.
"On the positive side they have had a rest and should be nice and fresh by the time we kick off."
Beckham also denied reports that he has too much influence within the England camp.
"When people say I pick the England team they simple don't understand it's not something I would want to do even when I retire," he added.
"That's why I will never make a manager or want to be one. It's not a role that interests me."
Subscribe to World Soccer – The essential football magazine.