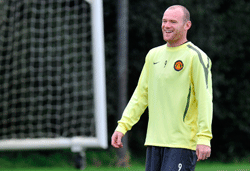 Chelsea have only won 1 of their last 11 league visits to Aston Villa – can the Blues change that on Saturday? See all the best betting at easyodds.com.
Wayne Rooney has contradicted claims made by his Manchester United manager Sir Alex Ferguson by claiming his ankle has been injury-free all season.
Rooney spoke in the wake of England's goalless draw with Montenegro at Wembley in a Euro 2012 qualifier on Tuesday night.
When asked after the Montenegro game if his ankle had caused any problems, Rooney replied: "No, I've had no ankle problem all season."
When asked "Why did Alex Ferguson say you had?", Rooney laughed and replied: "I don't know."
Rooney first suffered problems with his ankle in the Champions League quarter-final with Bayern Munich on March 30 but was rushed back for the second leg.
Ferguson left him out of the match at Everton so as not expose him to a hostile crowd and substituted him after an hour in a 2-2 draw at Bolton, claiming Rooney had "a little issue" with his ankle. Rooney did not travel to Valencia for a Champions League clash and Ferguson said before the game it would "be two to three weeks" before he would be fit and described it as a "straightforward ankle injury".
Ferguson then left Rooney out of the game at Sunderland 11 days ago, saying : "I have to take the view that this injury has been niggling away for a while and he kept on playing. I have to be dead sure that I am doing the right thing because Wayne has not been doing himself justice. I think in a week he will be fine. Obviously we don't play in a week, so it is up to Fabio Capello whether he wants him to."
Now Rooney has denied there was any problem, saying his ankle has been 100% throughout the season. But he does concede he is still lacking in some sharpness and needs a run of games.
Rooney said: "I felt better against Montenegro. You need the games to get your fitness in. I started the season, played a few games and felt I was getting sharp, and then missed three or four games so you don't feel as sharp as I thought I would do. Towards the end of last season I was injured but during the World Cup, I trained every session and had no problems fitness-wise. I think in this league you need to keep playing because, if you are not at full fitness, then it's difficult to break teams down."
Rooney remains confident he will recapture the form of last season when he scored 34 goals in what he felt was a poor campaign for United, as they only won the Carling Cup.
He said: "That is in the past, last season. Although personally it was a good season for me, we won the Carling Cup and we should be winning more than that. When you are going through the run I am now, you just have to keep working hard. I know I've been through this before and once one goal goes in, I am sure I will get more but it's just getting that goal. If you don't score, and you have chances, you are disappointed. I want to score but I have got a lot of games left in the season.I am sure this run without scoring will end soon.
"I don't do anything different? I train as hard as I can every time I train and I do extra training every day and I've done that since I was a young boy. I'll keep doing my training and I'm sure the goals will come. I've missed a few games this season. I've played six or seven games this season including England. You just want to keep playing consistently now and keep working hard and I'm sure the goals will come."
Chelsea have only won 1 of their last 11 league visits to Aston Villa – can the Blues change that on Saturday? See all the best betting at easyodds.com.
Make sure you don't miss any of the last news and articles from World Soccer. Subscribe to World Soccer today and take advantage of our all 50th anniversary offer, saving up to 50%!