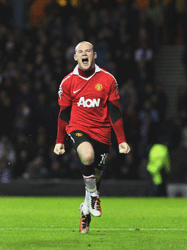 Aston Villa, who haven't beaten Arsenal at home since 1998, host the Gunners in the early lunch-time game. See all the best betting here.
Manchester United striker Wayne Rooney has dismissed suggestions he was considering joining Manchester City.
Rooney, 25, looked set to leave Old Trafford last month after questioning the club's ambition, but eventually signed a five-year deal to stay put.
And the former Everton striker has apologised to fans for the way the contract talks were handled.
"Everyone is saying that I was definitely going to Manchester City. Believe me if I had gone it wouldn't have been in England," said Rooney.
"I feel like I have apologised to the fans but everyone keeps saying that I haven't," he stated.
"If that is the case, then I apologise for my side of things.
"I have made my point clear since I signed my contract that I am committed to this club for the long term. I want to be successful here."
Rooney admits leaving Old Trafford could have been the biggest mistake of his career.
"Of course," added the England forward. "You see so many players leave this club and not do so well so I am delighted to have stayed.
"I spoke with the manager and [chief executive] David Gill. They reassured me the club was moving forward and from that it took maybe two or three hours to negotiate my contract and sign it.
"It wasn't a distraction to my football because I haven't played that much but it was a distraction overall. I am just happy it is all over now. I want to put it behind me and look forward."
Rooney has endured a turbulent few months, including a poor World Cup with England and revelations about his private life. He also had a public disagreement with Ferguson about the state of his ankle which led to him recently spending a rehabilitation period in the United States.
But he returned to United's starting line-up against Rangers in the Champions League on Wednesday, scoring the winner from the penalty spot.
It has been suggested the contract issue was one of the reasons for Rooney's dip in form in recent months, but the striker said this was not the case.
"Mentally I have been okay," he said. "Because the football has not been going well and other things have happened, everyone has put it down to not being mentally strong enough. But I am.
"Obviously the most important thing for me at the minute is to play and score goals.
"People are saying how bad I have been playing but I haven't played enough games for my form to be a disaster.
"With everything that has happened, the reaction all goes a bit overboard. But I have been through patches before when I haven't played well and come through them.
"I know 100% I will come through this one."
Aston Villa, who haven't beaten Arsenal at home since 1998, host the Gunners in the early lunch-time game. See all the best betting here.
A subscription makes the Christmas perfect gift. Give a lasting gift this year and save up to 33% when you subscribe.