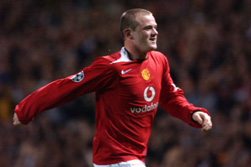 Wayne Roooney underlined his immense potential by scoring a hat-trick on his Manchester United debut in their 6-2 Champions League win over Fenerbahce.
Playing for the first time since injury curtailed his Euro 2004 campaign in June, Rooney showed that he had not lost his touch, scoring with two ferocious strikes in the first half before adding a third with a curling free-kick after the break.
United manager, Sir Alex Ferguson, admitted Rooney's debut for Manchester United was as good as any he has seen.
Asked if he could recall a comparable debut, Ferguson said: "I don't suppose so. It is a great start for him.
"That's why we signed him as he's got great potential. But I would rather talk about the game to be honest. He is only 18 and a young boy, don't forget."
And Ferguson warned United's rivals that he expected the young striker – who was playing his first game in three months after breaking his foot at Euro 2004 – to get even better.
"He obviously tired in the last 20 minutes, but given that it was his first game since the European Championships you could expect that," he said.
"I think he can only get stronger.
"The important thing for me as a coach is to allow the boy to develop naturally without too much public attention. I want him to be as ordinary as he can."
Ruud van Nistelrooy also netted for United and Ferguson said he was excited about the prospect of the Dutch striker teaming up with Rooney.
"Given that Wayne and Ruud played together for the first time the future holds great promise," he said.
"With Ruud and Wayne as a partnership it was excellent."
And Van Nistelrooy himself was delighted to have finally played alongside Rooney in a competitive match.
"We are all delighted with his performance," said Van Nistelrooy.
"If I was to pick out one thing to praise it would be his attitude. He is only 18, it is his debut and he knows all eyes are on him – yet he just goes out and does his own thing."
Fenerbahce coach Christoph Daum was also impressed with Rooney's performance.
"It was an outstanding debut," said Daum.
"It is something you dream of as a manager for a player to play in this way and to score in this way in his first game.
"If he does that, it makes you very happy and you're a very lucky manager.
"Rooney is still very young and maybe he will become the player of the century. He is at the beginning now though."